Logistics Cobots work regularly in factories, in a changing reality
Learn and operate regularly on the production floor within a few hours
Application speed – defining and implementing work processes within days
Implement real-time changes
Safe and Reliable System
Easy to use and simple to manage
Interfaces with other production and management systems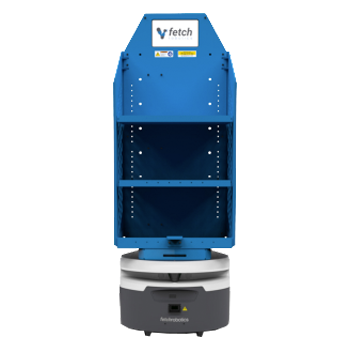 Fetch's Cobots are managed through the only cloud-managed market platform, real-time optimizing material transport tasks, saving expenses and improving efficiency, productivity, and pace, while working with and beside employees.

Get to know the Fetch logistics family
Freight100 – a very popular lightweight cobot (50-100kg, depending on configuration and upgrades).
< p> Freight100 – HMIShelf – Independent logistic cobot, capable of moving quickly and carefully in spaces where people, carts and forklifts move as well, with an integrated touchscreen that allows loading and unloading, sending it to its next missions.
Freight100 – RollerTop – An upgrade that allows for completely independent reception and delivery between the Cobot and conveyors, allowing the Cobot to pick up and deliver packages, cartons, and trays.
Freight100- CartConnect – An upgrade that allows Cobot for mobile dedicated wild carts Factory plant.
Freight500 – Massive Cobot up to 500kg
Freight1500 – Massive Cobot up to 1,500k "C.